Working on the establishment of biotech park in the state.
Biotechnology holds immense potential for transforming agriculture, healthcare process and environment industry of the state considering the numerous advantages the state offers in terms of scientific research and development facilities, knowledge and skill base, abundant bio-resources, supportive government policies, cost effectiveness and huge market base. Chhattisgarh has a dream of creating knowledge society by harnessing the power of biotechnology and huge talent pool of the people of Chhattisgarh. The biotechnology will play key role in the government's Start Up India Action plan. The Government heralds supportive Industrial Policy and removing regulatory barriers to create atmosphere of innovation and entrepreneurship in the State. State supports entrepreneurs and start ups in all stages of innovation starting from ideation stage to commercialization of products, aiming to develop Chhattisgarh as a global innovation hub.
The main purpose of S C Bose Biotechnology Incubation Centre is to provide facilities for interface of research institute with industry for better utilization of technology and available bio-resources in the state in collaboration with Govt. of India & Govt. of Chhattisgarh.
Nurture Biotech Idea, Innovation, Start-ups & Commercialization.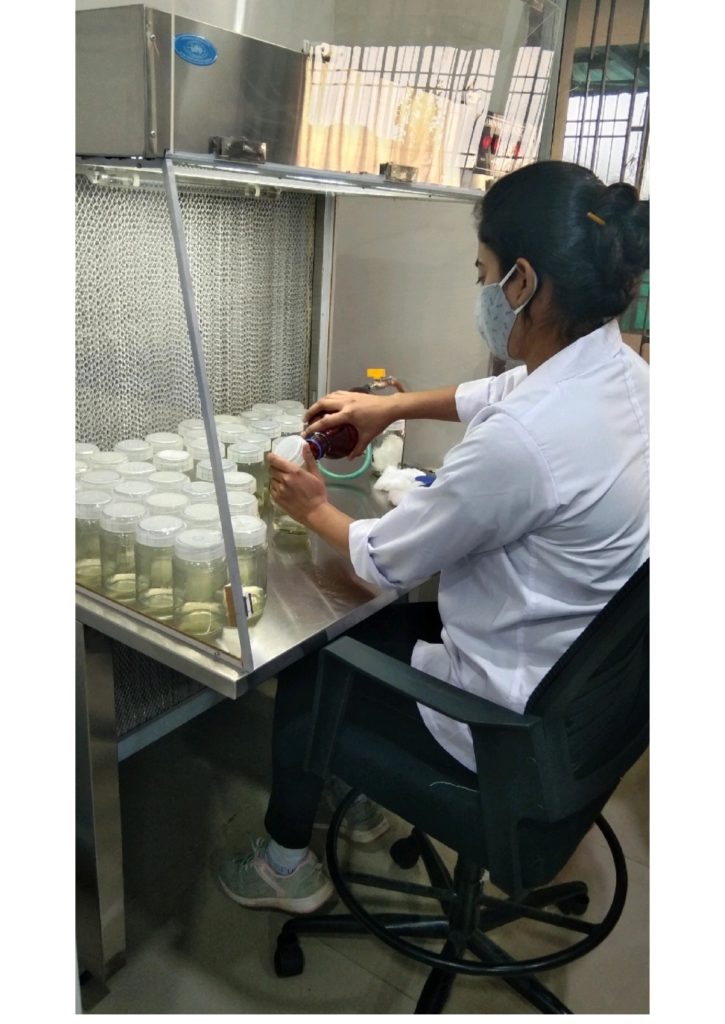 Identified Thrust Sector for SCBinc
I. Agriculture Biotechnology
a. Biofertilizers
b. Biopesticides
II. Healthcare Biotechnology
a. Molecular Diagnostics
b. Medicinal Plant Extracts
III. Industrial Biotechnology
a. Secondary Agriculture
b. Food processing
c. Agri- based value added products
Co- working space and common instrumentation facilities
Facilities for interface of research institute with industry for better utilization of technology and available bio-resources
Common platform for Industry to collaborate with academia for technology adoption, scale-up and commercialization
Mentoring support
Institutional linkage support
Central Instrumentation Facility
Equipments
-20oC Refrigerator
Orbital shaking Incubator
Vortex Mixer Test tube shaker
BOD Incubator
Vertical Autoclave
Muffle furnace
Microscope Trinocular
Ultrasonic Bath with built in heater and microprocessor digital controller
Laminar Air flow
Water purification system type- 1
Accessories for orbital shaking Incubator
Rotary shaker
Shrink tunnel wrapping Machine
Pouch sealing machine
Eye wash station
Digital Dry Bath
Electronic analytical top loading weighing balance
Electronic weighing scales
Water polisher for zero TDS water
Water bath
Lyophilizer
Fume Hood for General chemistry and highly Toxic fumes
Digital top pan balance
Gradient PCR Machine
Spectrophotometer
Gel Documentation system
Hot Air (Tray) Dryer
RO Water purification system
Pipette sets for liquid handling
Biosafety cabinet class A -II
Vertical Autoclave
 -86 °C Ultra low temperature
AAS (spectrophotometer)
pH meter
Micro Centrifuge
Office space with basic office amenities
Internet Services
24/7/365 CCTV and biometric services
Audio/video solutions at Auditorium
Basic troubleshooting of IT-related problems